Homemade Chicken and Cheese Dog Treats
Abi Thomas
There is nothing that makes your dog happier than when you pull out their dog treats but fresh homemade dog treats send them to a whole other level of tail wagging happiness. Sometimes dogs can be picky and in our dogs we've even had instances of slight allergic reactions when we've tried some new treats so it was especially important for me to find some treats that I knew 100% that the ingredients were natural and not harmful to my dogs. Not to mention the dogs devour them and are stuck to me like glue whenever I make these.
There is lots of different ideas out there for the flavour of dog treat but chicken is always my dogs number one favourite flavour. I feel like I have the only dog on the planet that doesn't like peanut butter but this is another great idea I've seen. Check out this great recipe if this sounds like something your dog would love. 
3/4 cup yellow cornmeal
1 cup quick oats
1/4 cup butter cut up
1 cup boiling water
1/3 powdered milk
1 egg beaten
2/3 cup chicken stock or 1 stock cube + 2/3 cup water
1 cup shredded cheese – I tend to use mozzarella.
3 cups whole flour
Check our our homemade dog treats video
Preheat oven to gas mark 4. Line 2 baking sheets with grease proof paper (preferred) or lightly grease.
In a large bowl, add the cornmeal, oats, butter and the 1 cup of boiling water. Stir; let stand for about 15 minutes so the oats absorb the water.
Add the remaining ingredients, stirring in only as much flour to make a stiff dough.
Turn out on lightly floured surface and knead until smooth…about 2 minutes.
Divide dough in half.
Roll to about 1/4-inch thickness.
Cut with biscuit-shaped cookie cutter or use anything you have to hand, your dogs won't judge. – I have linked the cookie bone I used from Amazon here.
Place on prepared baking sheets. Repeat with the other half of the dough.
Bake on gas mark 4 for 35-40 minutes. Turn off oven and let the biscuits remain in the oven until it's completely cool. This dries the biscuits.
Store in a covered container.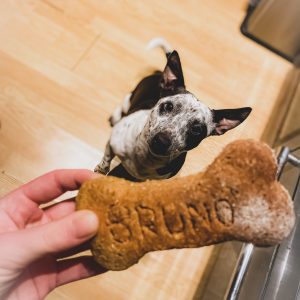 Serving: 1serving | Calories: 85kcal | Carbohydrates: 12g | Protein: 3g | Fat: 3g | Saturated Fat: 2g | Cholesterol: 12mg | Sodium: 44mg | Potassium: 79mg | Fiber: 2g | Sugar: 1g | Vitamin A: 78IU | Vitamin C: 1mg | Calcium: 32mg | Iron: 1mg