WAGGLE MAIL MONTHLY DOG SUBSCRIPTION BOX UK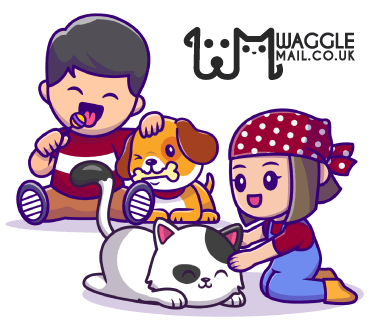 Welcome to Waggle Mail! We sell a huge range of Pet Subscription boxes. Looking to buy a dog subscription box? They're our specialty! Its the perfect dog gift and/or the 'purfect' cat gift! If you're looking to buy pet subscriptions you have come to the right place!
Every box will vary depending on your furry friends' preferences, but our promise here at Waggle Mail is that our monthly pet boxes, no matter how big or small, are full of a range of healthy Treats, entertaining toys and must have dog accessories. We keep a log of all your pet's  information you have provided of do's and don'ts but also, we will keep in mind what we have previously sent your Pet, so your box is always packed full new goodies. So what are you waiting for?! Buy dog subscription boxes in the UK at an unmatched price. Not to mention the FREE Delivery Plus a Collar & Bandana!
Its our goal at Waggle Mail to give your cat or dog a personalised experience with each and every monthly dog subscription box or cat subscription box. If you've been a member for at least a month, your pet will receive extras in their birthday box when their special day comes around! Or if you've purchased a 12 Month subscription, you'll get an entire dog birthday box for free! We find the Dog Birthday Boxes are the perfect gift for your little pups. All of our pet subscription boxes come with at least four packs of treats and at least three toys. If you have any questions about buying our dog subscription boxes or our cat subscription boxes please feel free to contact us through Instagram, Facebook, Twitter or even the chat box in the bottom right corner of your screen.
We may have cheap prices but we don't have cheap dog toys. Each month we get a new range of the best dog toys. This allows us to offer our customers a choice. From Squeaky Dog Toys and Plush Dog Toys all the way to dog toys for aggressive chewers and Puppy Dog Toys. We have it all. Depending on your dog's size, breed and the other information you provide on your order form one of our dedicated team will select the correct toys for your dog.
What about a dog box with no toys? Here at Waggle Mail we want you to only get the items you want. That's why we offer our customers the choice to add their alterations to the notes at the bottom of the order form and we will alter your box accordingly. The doggy treat box that is sent out to you will always add up to the same value as the box price.
The dog treats supplied in our monthly dog subscription boxes UK are tried, tested and recommended.. We pack our boxes full of well known brand treats to keep you stocked up for the month. We have a wide range of treat options in our dog boxes. If your dog is picky about what they eat, let us know some of their favourite flavours or brands and we will do our best to include these.
WHAT YOU NEED TO KNOW ABOUT OUR DOG SUBSCRIPTION BOX...
PACKED FULL OF THE BEST DOG TOYS
VERIFIED FOR AGGRESSIVE CHEWERS
PUPPY BOXES SUITABLE FOR PUPPIES
PUPPY & DOG BIRTHDAY GIFT BOX
MONTHLY DOGGY SUBSCRIPTION UK
CHEAPEST DOG SUBSCRIPTION BOXES